Latest Press
Kensington & Chelsea Magazine, June 2015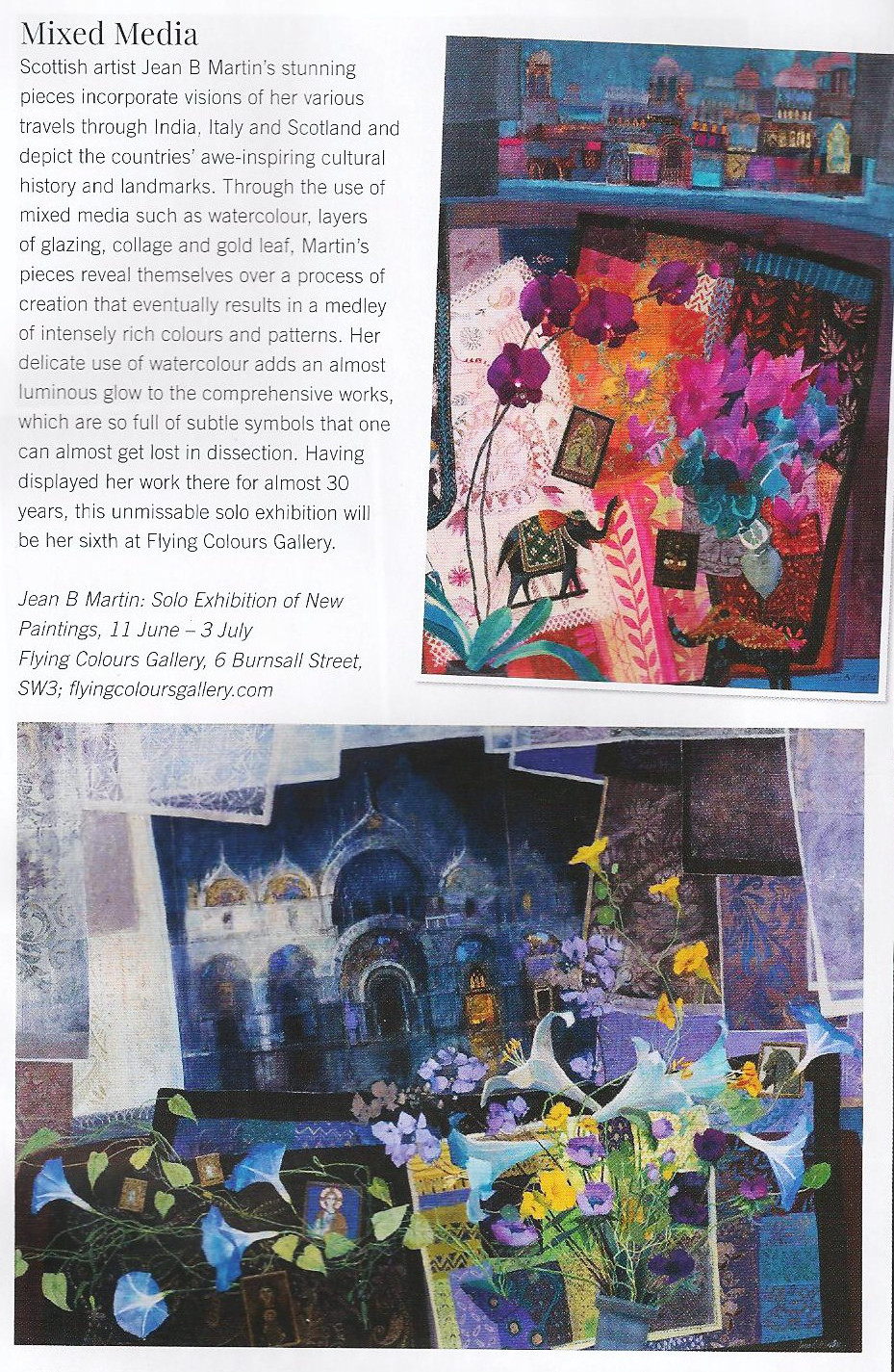 ---



Platform 505, Thursday 31st October 2013
From the article 'Shona Barr – Flower Power in a Living Landscape' by Susan Heywood



"Barr's landscapes and seascapes are suggestive and upbeat, with motifs (clouds, trees, fields, water and the boundaries between them) implied rather than stated, expressed in confident swathes and merges of fresh, euphoric colour". Read more here

---
The Scotsman, Friday 26th March 2011
From the article 'Glasgow Art Fair: How you could snap up an original piece with a little guidance from the experts' by Emma Cowing and Jonathan Trew



Once you are in, what should you buy? The one answer that keeps cropping up is: buy what you enjoy looking at. Jane Houldsworth is the director of Flying Colours Gallery in London. She will be at the Art Fair and her advice is very succinct: "Clearly identify your price bracket and then fall in love. There are no rules. Go with some gut instincts and I would recommend chatting with the people on the stand who are usually very helpful. They should know a lot about the piece of work - but the important thing is that it speaks to you."

---
The Scotsman, Friday 21st November 2010
From the article 'Welcome to Planet Art' by Duncan Macmillan and Susan Mansfield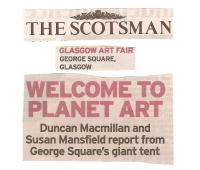 At the Flying Colours Gallery stand owner Jane Houldsworth has high hopes for the landscapes of Ethel Walker, and a new signing, the figurative painter Angela Reilly, whose nudes have already caught the eye of the judges at the BP Portrait Competition. "We've done the same stand in the same place for nine years, so we're getting the hang of it", says Houldsworth. "This is one of our favourite fairs, we wouldn't miss it for anything."

---
The Herald, Thursday 6th November, 2010
In The Picture: Amazing Art from £500 by Eleanor Cowie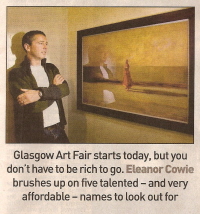 Artist: Anthony Scullion
Age:40
Lives: Glasgow
Trained: Glasgow School of Art
Gallery: Flying Colours Gallery
Stand number: 43
Price Range: £500-£11,000


Glasgow based Scullion is known for his fine draughtsmanship and emotionally charged works. He has shown with the London based Flying Colours Gallery since the late 1990s, Jane Houldsworth, it's director, is singularly effusive about his work. "It is deeply intuitive", she says. "Concentrating on the body of usually one individual per painting, Scullion invests these with forms and colours that hark back to the tradition of the Dutch masters. "The paintings are emotionally powerful. Yet at the same time they are unique and gentle and they provoke strong reactions." Scullion's paintings combine the solidity of human presence with atmospheric spaces. "They resonate the chiaroscuro of Rembrandt, the spirituality of Giocometti and the distortion of Bacon," adds Houldsworth. "I have sold Tony's work all over the world. They are very collectible pieces."



---
Metro, Thursday 19th April 2009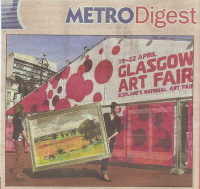 Gallery Directors Ruth Mulvie and Jane Houldsworth pictured carrying 'Summer Fields' by the late John Cunningham to the fair.

---
BBC News, Wednesday 18th April 2009

Click below to view BBC Interview with Jane Houldsworth on the opening day of the Glasgow Art Fair.